MEG DAVIS
THE BURNING WEST INDIES
(C)(P)Meg Davis 2000/BMI/Harry Fox Agency/All Rights Reserved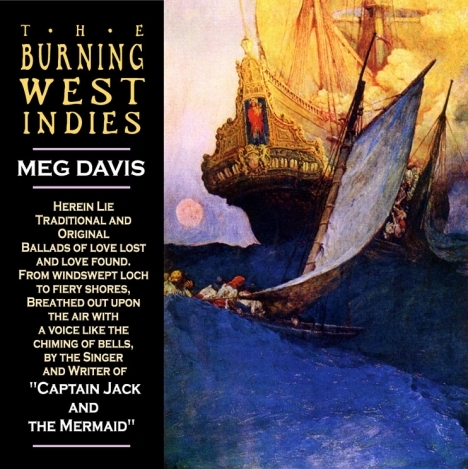 Originally released as "The Claddagh Walk", this entire album has been RE-mastered and RE-engineered by David Greenspan at the Interlochen Music Arts Academy 2000 with production changes by Meg Davis. Meg Davis performs all vocals and guitars with added instrumentation and production by Donald Shaw. Lismor Recordings went out-of-print on this CD some years ago and this special re-master is a very, very limited edition of 500. We wish to thank Lismor for their permission to make this limited release of previousely recorded material.
UPDATE 12/22/2000 SALES OF THIS CD HAVE BEEN HALTED AT THIS TIME DUE TO REPORTS OF GLITCHES ! THIS ALBUM WILL BE AVAILABLE AGAIN AS SOON AS THE PROBLEMS HAVE BEEN FIXED...MEANWHILE, IF YOU PURCHASED A COPY OF THIS CD AND YOUR COPY IS GLITCHY PLEASE CONTACT MEG SO SHE CAN SEND YOU A REPLACEMENT COPY ! USE THE FORM BELOW TO CONTACT MEG.
---
ALBUM CONTENTS
The Burning West Indies (Ireland)
The Castle of Dromore (Ireland)
She Moved Through The Fair (Ireland)
The Broome O The Cowdenknowes (Scotland)
The Claddagh Walk (Meg Davis)
The Lake Of The Ponchartrain (US/Ireland)
If I Were A Blackbird (Ireland)
"P" Stands For Paddy I Suppose (Ireland)
Eileen Aroon (Ireland)
My Lagan Love (Ireland)
The Loch Tay Boat Song (Scotland)
The Queen Of The May (Allen Davies)
The Last Leviathan
For Ireland I'd Not Tell Her Name (Ireland)
CD Running Time: 61 minutes
Questions ? Comments ? Thoughts ? Use the form below to send Meg a note.....