MEG DAVIS PRESENTS
THE MUSIC OF WONDERLAND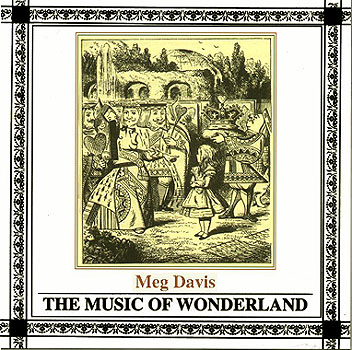 Conceived, composed, orchestrated and produced by Meg Davis. In Celebration of 100 Years of Delight and Inspiration: Lewis Carroll 1898-1998
---
Written and recorded in cozy kitchens and country houses near Cheltenham Spa, Gloucestershire, England 1987.All music, lyrics and arrangements © Meg Davis 1987 / (P)Published by Leelanau Heritage Arts/BMI/Harry Fox Agency Affiliate
All instruments and vocals performed by Meg Davis with additional lead guitar work by Simon Spearing. This recording was remastered by David Greenspan at the Interlochen School for the Arts 1998.
ALBUM CONTENTS :
Our Fairy-Tale (Words by Lewis Carroll)
All My Own Invention
I'm Late, I'm Late
The Snap Dragon Fly
Other People's Children
You Will Remember Me
Queen Alice (Words by Lewis Carroll)
Tea Time
Just Desserts
Upon A Summer's Sky
A Full Song Sample is Available Here !
Questions ? Comments ? Thoughts ? Use the form below to send Meg a note.....